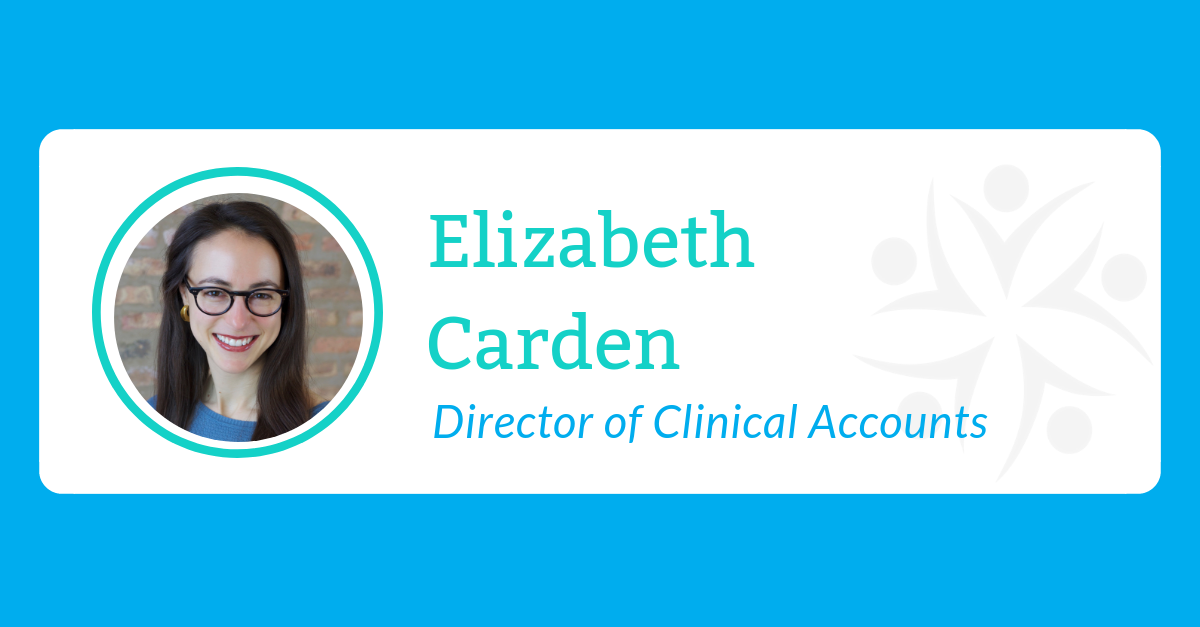 Elizabeth Carden joined Regroup in 2017 with a primary goal in mind: to see how technology could increase access to mental health services, regardless of zip code. Two years later, she is still drawn to the opportunity to expand access for communities by bringing telepsychiatry solutions to Regroup's health facility partners, their staff, and of course, their patients.
In this edition of Ask Regroup, Carden discusses how Regroup works with its healthcare partners to meet their ongoing needs, and how internal and external communication is key to making sure the partners' needs are being met.
1. Limited access to behavioral health services is the major pain point for Regroup's partners. How do you create flexible solutions for each of the different partners?
As Regroup has grown, we continue to get better at understanding our partner's needs and solving for them in ways beyond just assigning a clinician for a certain number of hours. We start that discovery in the sales process, so that by the time the partner signs the contract, we have an understanding of their setting. Are they new to telepsychiatry? Are they an urban or rural community health center, a corrections site, or primary care facility? What are the common diagnoses among their patients – for example, mood disorders such as depression and bipolar, or substance use disorder? We have an extensive network of clinicians who specialize in different areas, and these questions help us match the partner with the right clinician.
2. How do you use collaboration day-to-day with your Regroup colleagues and client partners?
We have a set schedule of team meetings each week with our clinician relations team, medical director, deployment, credentialing, tech and recruiting teams. These meetings help us avoid too many one-off meetings and keep space open in the day to communicate with our partners, and also make sure every facet of the program is working the way it should be. We organize that available space to meet with our partners regularly in person or through Zoom, phone and email, and work closely with their internal stakeholders to address their evolving needs and develop the effective solutions they need.
3. Can you share a challenge you've helped to solve for one of Regroup's partners?
We've found success for our partners in streamlining communication by facilitating direct meetings between our partners and Regroup clinicians. These meetings let the clinician hear directly from the partner what needs to be on the documentation, for example, and the partner can hear directly from the clinician why they've been doing something a particular way. We know from experience that a strong relationship with our primary partner contacts is essential to building trust to help Regroup solve issues. Our accounts team is trained in mediation, which gives us the skills – combined with that level of trust – to ask the frank questions required to understand the partner's needs and solve for them as effectively as possible.
4. What are the trends you see in the healthcare organizations Regroup serves, and how are you solving for those issues?
We're seeing a lot of needs for child and adolescent psychiatrists (CAPs). While there's a shortage of general psychiatrists throughout the country, there's even fewer child and adolescent psychiatrists. Because we work with CAPs across the country, Regroup is equipped to address this need.
5. Based on your experience with Regroup's partners, what are the top must-haves for a successful telepsychiatry program?
We've seen that our partners who get buy-in from all the stakeholders at different levels have more success with their telepsychiatry programs. The idea to integrate telepsychiatry may begin with the CEO but it's a program that impacts everyone in the organization. Having an open line of communication on the partner's side is important – having the stakeholders at that table, taking the time to think about how to implement telepsychiatry effectively makes all the difference.
6. What do you enjoy most about your work with Regroup?
Speaking for myself and the other two account managers, I can say that when we hear that the patients and on-site staff really love their clinician, that means the patients are getting the care they need and the facility's pain points are being eliminated. That is extremely rewarding. And the people at Regroup make the job rewarding, too. I work with intelligent, thoughtful people who are also really generous and fun, so that makes a big difference. Plus, I have a few contacts with partners that are awesome -- and that makes my job really enjoyable!