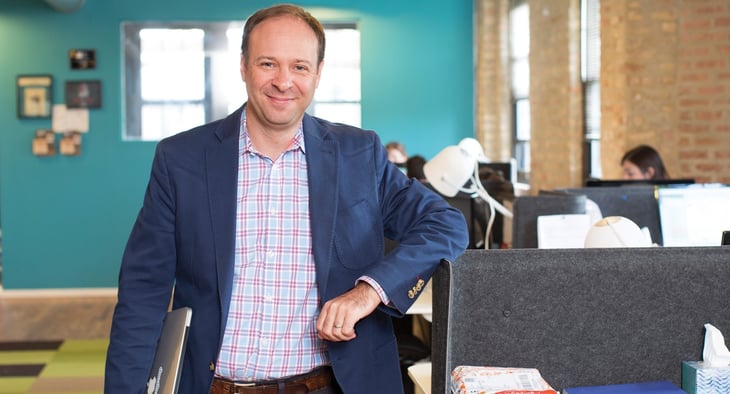 Chicago, IL – David Cohn, Founder and CEO of Regroup Telehealth, was recently named one of the National Peace Corps Association's 40 Under 40.
In honor of their 40th anniversary, the National Peace Corps Association (NPCA) recently recognized 40 changemakers from their community of volunteers, who have made extraordinary achievements in their respective fields, represent a new generation of leadership and exemplify the Peace Corp's mission to make a profound difference in the world by tackling some of the most pressing challenges of our time.
Although the list of honorees is as diverse as the countries that they served, they share a lifelong commitment to Peace Corps ideals and a dedication to service for the greater good through social impact initiatives.
David Cohn spent more than two years with the Peace Corp, serving in Guatemala from 2002 to late 2004. He credits his experiencing in the Peace Corps with instilling a desire to make a meaningful difference in the lives of others as well as helping to shape him into the socially-minded entrepreneur he is today.
In 2011, Cohn founded Regroup Telehealth, a venture-backed company revolutionizing mental health care delivery. Based in Chicago, Regroup brings customized telepsychiatry solutions, technology and comprehensive support teams that contribute to the seamless integration of behavioral health clinicians at partner care sites. Regroup clinicians collaborate with onsite care teams on patient care plans and workflows, yielding better behavioral care, shorter wait times and reduced barriers in settings such as primary care clinics, community health centers, hospitals and correctional facilities.
In December 2019, Cohn led Regroup through a successful merger with InSight Telepsychiatry, becoming the largest telepsychiatry service provider in the United States. Cohn, who serves as Chief Growth Officer of InSight + Regroup, and maintains a seat on the board of directors for the newly combined organization, affirms that this joint effort will allow for expanded access to mental health care across the country in response to a nationwide shortage of specialists coupled with a rising need for behavioral health services.
"I am humbled to be recognized along with such an esteemed group of Returned Peace Corps Volunteers across the country. I am grateful for my time in Guatemala and the valuable lessons it taught me. I could not have asked for better preparation as an entrepreneur than Peace Corps service. I look forward to our continued efforts to bring mental health access to all who can benefit from it," said Cohn.
Click here for the full list of the National Peace Corps Association's 40 Under 40 and their stories.