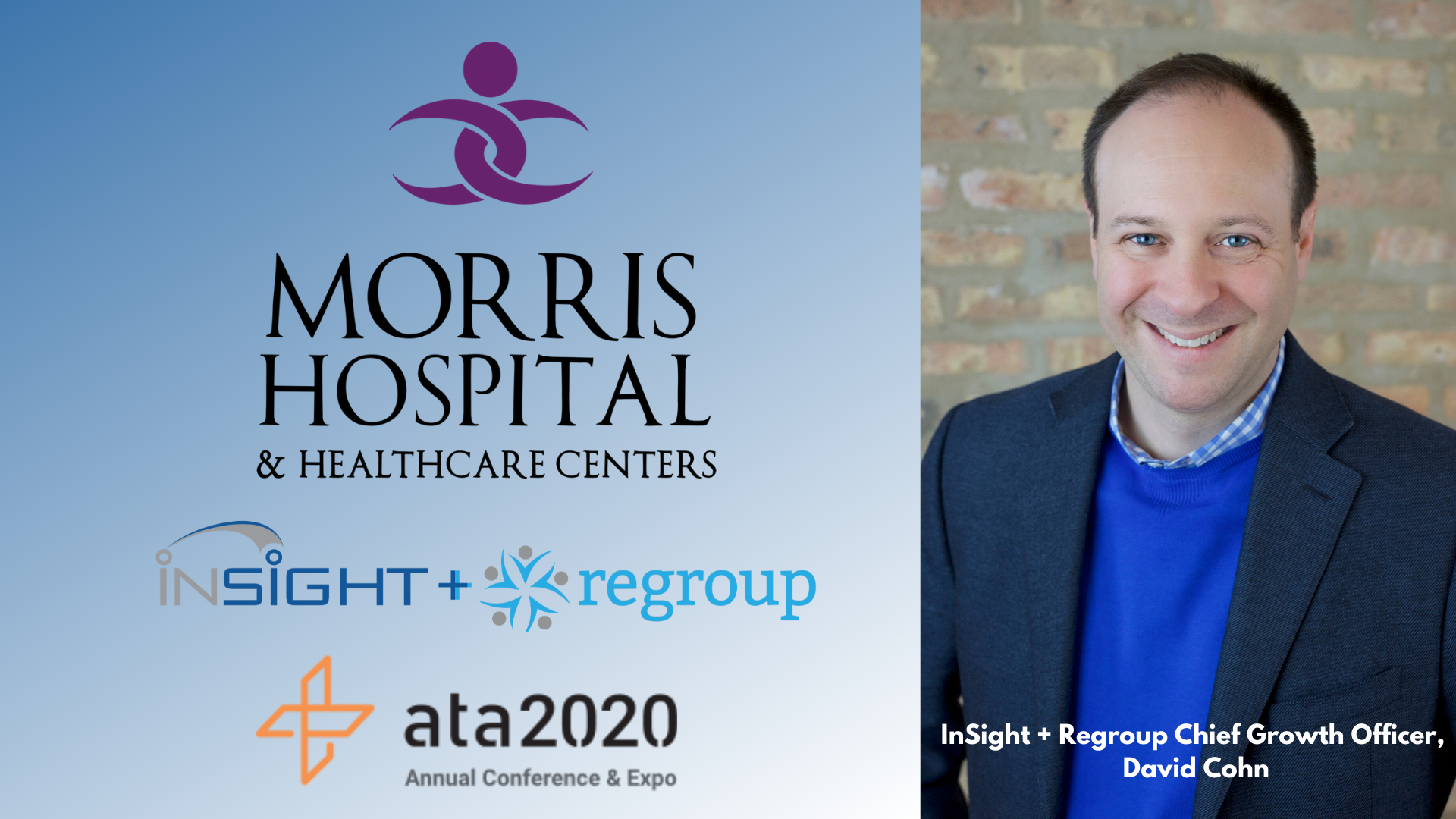 MOUNT LAUREL, NJ - InSight + Regroup is honored to present during ATA2020. As an experienced leader in telehealth industry, InSight + Regroup will share its expertise and success implementing telepsychiatry solutions across the continuum of care. Touted as the world's largest telehealth innovation event, the American Telemedicine Association's annual conference will be held virtually from June 22 – 26, 2020.

With the splash that telehealth has made recently, this year's virtual version of the conference is sure to be one of the most relevant events of 2020 and essential to learning about how healthcare organizations, clinicians, and individuals are viewing a world where telehealth is now the expectation, not the exception.
Click
here
to register for this innovative, week-long event and access live, on-demand and recorded sessions on key topics in telehealth.
InSight + Regroup speaking engagements include:

Lessons Learned in Implementing Telemental and Behavioral Health Programs

On Wednesday, June 24, David Cohn, Chief Growth Office of InSight + Regroup, will participate in a panel discussion to share best practices and lessons learned in implementing telepsychiatry programs in different care settings. Drawing from his experience working with hundreds of healthcare organizations across the country, Cohn will examine regulatory, operational and clinical considerations as well as offer insight into how patients and clinicians have responded to this model of care. Cohn will also address how COVID-19 has affected the telebehavioral health industry and discuss expectations for the future of industry in terms of policy and practice in the aftermath of the pandemic.
Click here to join this discussion during ATA2020 on June 24th @ 2:58 PM EST

Telmental Health Integration and Implementation

As part of a special telemental health workshop on Friday, June 26, InSight + Regroup partner, Morris Hospital and Healthcare Centers, will share how they used research, practice and industry solutions to launch their successful Collaborative Care program to meet increased patient volume and demand for behavioral health services across multiple primary care sites. Through telepsychiatry, onsite primary care providers and social workers can connect with a remote psychiatry to leverage their specific expertise to improve the health of their patient population. Since introducing the program, Morris's patients are more involved and are more likely to follow through with appointments and treatment plans. Additionally, primary care providers are fully supported and have access to a readily available specialist, increasing their comfort when seeing patients with mental health conditions

Hospitals, healthcare organizations, clinicians, patients and payers are embracing telehealth as a safe, effective, and timely way to access vital behavioral health services. The ATA virtual conference is a great opportunity to learn best practices from industry leaders as well as discover how leading organizations have responded to recent changes in the industry and their vision for the future.
Click here to join this discussion during ATA2020 on June 26th @ 2:25 PM EST

About InSight + Regroup

InSight + Regroup is the leading and largest telepsychiatry service provider in the US with a mission to transform access to quality behavioral health care. InSight + Regroup serves hundreds of organizations and individuals in various settings across the continuum of care with its on-demand, scheduled services and direct-to-consumer (Inpathy) divisions. Given its size, diversity of services and extensive experience and expertise, InSight + Regroup is uniquely positioned to enable scalable telepsychiatry programs across the care continuum. As an industry thought leader, InSight + Regroup has helped shape the field, define the standard of care and advocate for improved telepsychiatry-friendly regulations. To learn more, visit www.InSightTelepsychiatry.com and www.RegroupTelehealth.com.