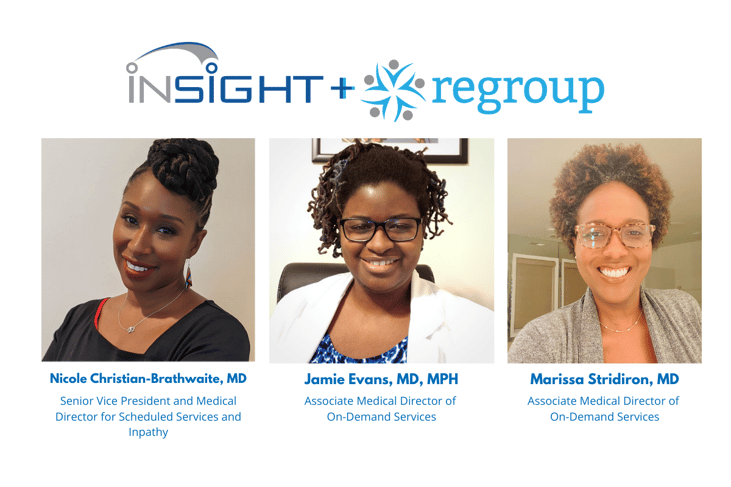 The leading telepsychiatry service provider in the US expands its clinical leadership team and pool of behavioral health specialists to support the growing demand for telepsychiatry services across the country.
MOUNT LAUREL, NJ – InSight + Regroup recently appointed three new clinical leaders and has added more than 270 new telebehavioral health professionals to its already deep pool of experienced providers.
Spurred by the pandemic, hospitals and healthcare organizations, clinicians, payers and patients across the country have embraced virtual care delivery and are turning to telepsychiatry to help meet the rising need for timely, safe and quality behavioral health care.
As a leader in the telepsychiatry industry with more than 20 years of experience providing telepsychiatry services across the continuum of care from hospital to home, InSight + Regroup has experienced a spike in demand for its services as well as a surge in interest from behavioral health specialists wanting to work with the organization.
Since January, the InSight + Regroup recruitment team has carefully vetted hundreds of clinicians interested in a career in telepsychiatry and has hired more than 270 year to date and expects to add even more in the coming weeks and months. In addition to growing its clinician team of experienced adult and child and adolescent psychiatrists, psychiatric nurse practitioners and other levels of mental health professionals, the organization recently added three highly respected, experienced and knowledgeable psychiatrists to its clinical leadership team.
Dr. Nicole Christian-Brathwaite joins InSight + Regroup's leadership team as Senior Vice President and Medical Director for Scheduled Services and Inpathy. Dr. Christian-Brathwaite has extensive clinical experience treating children, adolescents, adults and families, especially those from diverse backgrounds. She has special expertise in perinatal and post-partum mental health, trauma-informed care, mental health in communities of color, school psychiatry, implicit bias and racism in mental health.
Dr. Christian-Brathwaite will be working under the guidance of Chief Medical Officer, James Varrell, MD and will be responsible for the direction, planning and coordination of all medical-related activities for the Scheduled Services and Inpathy lines of business, which provide clinic-based scheduled telepsychiatry services, doc-to-doc consultations and various in-home care options for patients and community healthcare and payer partners.
Drs. Jamie Evans and Marissa Stridiron also recently joined the clinical leadership team at InSight + Regroup as Associate Medical Directors for On-Demand Services. Both Drs. Evans and Stridiron have worked as on-demand telepsychiatrists with InSight + Regroup for several years, collaborating with hospital emergency departments, psychiatric crisis centers, inpatient units and correctional facilities to provide as-needed psychiatric assessments, care and consultation.
In their new roles, Drs. Evans and Stridiron will draw from their collective experience in behavioral health and expertise in on-demand telepsychiatry to train onboarding clinicians and share best practices in this model of care delivery. In addition, they will advise telepsychiatry clinicians on the regulatory and operational considerations and commitment laws and policies in their respective states and at their assigned partner sites. They will also ensure existing clinicians are offering high quality clinical care to the patients and partner organizations we serve.
"There is a tremendous need for our services across the country," explains Dr. Varrell. "I look forward to working with Drs. Christian-Brathwaite, Evans and Stridiron as we continue to grow our clinician team, transform access to care and help more individuals in need of safe, timely and quality mental health care. Their proven leadership, demonstrated skills and passion and expertise, will be instrumental as we continue to advance our behavioral health care services, confront racial disparities and work together to deliver promising new options for underserved patients."

About Nicole Christian-Brathwaite, MD
Nicole Christian-Brathwaite, MD is a double board-certified adult and child and adolescent psychiatrist. Dr. Christian-Brathwaite received her medical degree from the University of Pittsburgh School of Medicine and completed her adult psychiatry residency and child and adolescent psychiatry fellowship at Massachusetts General Hospital/ Mclean Hospital, a Harvard Medical School affiliate. She is the founder and CEO of Well Minds Psychiatry and Consulting Company, which provides psychiatric and therapeutic treatment as well as education, consultation and coaching on mental health and trauma, wellness and self-care, implicit bias and understanding mental illness in children of color. Dr. Christian-Brathwaite has written numerous articles for scientific or medical publications and frequently speaks about the impact trauma, race and culture have on mental health. She also serves on the Board of Directors for the Post-Partum Depression Fund of Massachusetts and Families for Depression Awareness and is the Disparities Lead for the COVID-19 Action Coalition of Massachusetts.
About Jamie Evans, MD, MPH
Jamie L. Evans, MD, MPH, is double boarded in family medicine and psychiatry. Dr. Evans received her medical degree from the University of Pittsburgh, and she completed her residency at the University of Cincinnati Academic Medical Center. She also has a master's in public health from the University of Michigan with a concentration in health behavior and health education. She was a research intern and fellow for the Centers for Disease Control and Prevention (CDC) and conducted research for the March of Dimes Birth Defects Foundation and the University at Albany, SUNY School of Public Health. She also served as a health educator with the University of Michigan Health Service. Her professional interests include mental health and primary care integration; community mental health; addiction medicine and psychiatry; homeless outreach healthcare and correctional healthcare.
About Marissa Stridiron, MD
Marissa Stridiron, MD is a board-certified adult psychiatrist. After graduating with her medical degree from Albert Einstein College of Medicine, she went to Montefiore Medical Center where she was chief resident in her psychiatry residency program. Before joining InSight + Regroup, Dr. Stridiron worked in the inpatient setting and private practice. She has presented on various residency training topics, including fostering empathy in residents. She has also done research with Johns Hopkins Hospital on dietary counseling of obese children.
About InSight + Regroup
InSight + Regroup is the leading and largest telepsychiatry service provider in the US with a mission to transform access to quality behavioral health care. InSight + Regroup serves hundreds of organizations and individuals in various settings across the continuum of care with its on-demand, scheduled services and Inpathy divisions. Given its size, diversity of services and extensive experience and expertise, InSight + Regroup is uniquely positioned to enable scalable telepsychiatry programs across the care continuum. As an industry thought leader, InSight + Regroup has helped shape the field, define the standard of care and advocate for improved telepsychiatry-friendly regulations. To learn more, visit www.InSightTelepsychiatry.com and www.RegroupTelehealth.com.