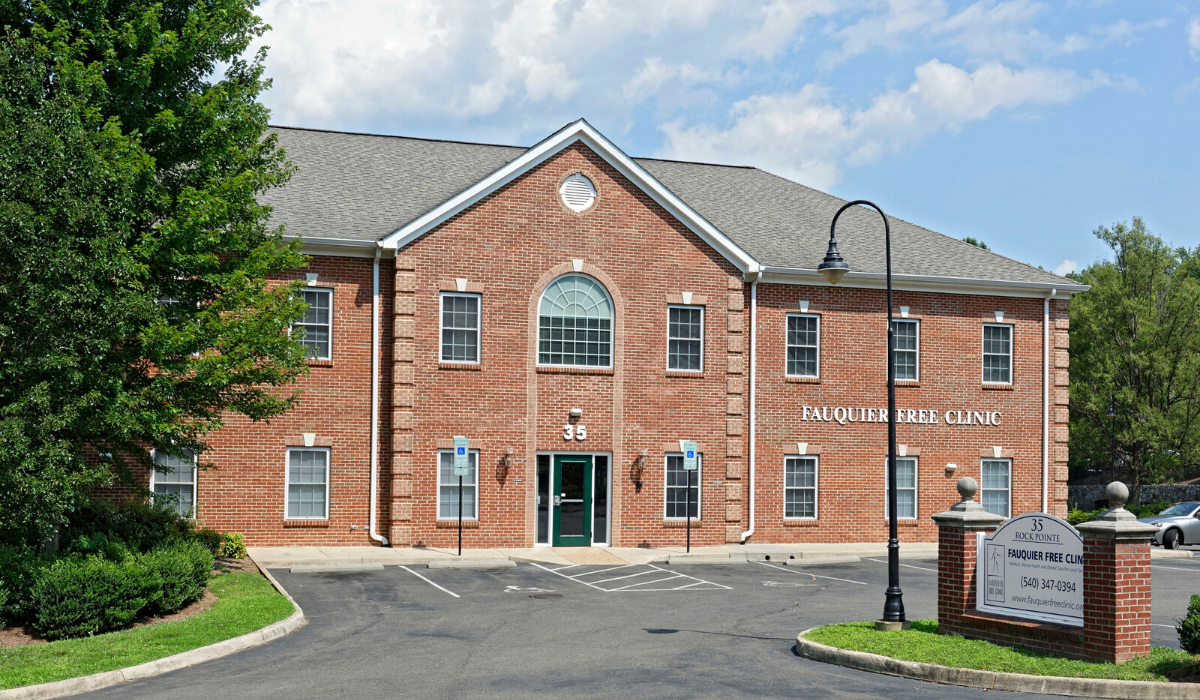 As many clinics across the country have had to close or temporarily suspend services during the COVID-19 crisis, the Fauquier Free Clinic in rural Virginia was able to quickly convert to in-home virtual care so their patients could continue to receive much-needed mental health services.
The Fauquier Free Clinic in Warrenton, Virginia, provides comprehensive medical, dental and mental health care to uninsured and under-insured residents in Fauquier and Rappahannock counties. Founded in 1993, their mission is to help local families who cannot afford health insurance or health care by creating a community where all individuals, regardless of income, have the resources they need to be healthy.
In 2017, with funding support from the PATH Foundation, the Fauquier Free Clinic launched a telepsychiatry program to help address the growing need for mental and behavioral health care in their community. This program supplements the care provided by the in-person volunteer therapists at the clinic as well as gives patients access to a Spanish-speaking psychiatrist, Dr. Alicia Azpiri.

According to Shannon Raybuck, LPC and mental health care coordinator at Fauquier Free Clinic, the clinic brings much needed care to underserved patients living in rural areas of Virginia. Raybuck explains, "we serve a vulnerable patient population with poor social determinants of health. Like many rural communities, we have a critical shortage of psychiatric and mental health providers and none of our local psychiatrists speaks Spanish fluently. Therefore, the value of this telepsychiatry program cannot be overstated. Not only does it increase access to behavioral health care in our area, but it also allows the Spanish-speaking residents of our community to have access to these important services. It's amazing that through this program, our free clinic in rural Virginia is able to provide vulnerable patients access to a Harvard-trained, Spanish-speaking psychiatrist on the other side of the country in California."

The team at Fauquier Free Clinic recognizes that patients' mental health, physical health, and overall well-being are inseparable. Therefore, they screen all patients for depression. Approximately half of all patients receiving mental health services at the clinic are referred from these screenings; the remaining patients seek out mental health services directly. Through telepsychiatry and onsite behavioral health care services, the clinic is able to provide comprehensive mental health support for patients, including counseling and medication management. The onsite and remote mental health clinicians collaborate with the medical and dental teams for collaborative patient care, ensuring that all patients' health needs are addressed.

Prior to COVID-19, patients receiving psychiatry services would come to the clinic at their scheduled appointment time to meet virtually with Dr. Azpiri in a private room using a computer equipped with a large monitor, camera and microphone. However, in the wake of the coronavirus pandemic, the clinic had to quickly shift to in-home virtual care in order to maintain patients' access to behavioral health care while taking steps to help contain the spread of COVID-19 and comply with social distancing protocols. The entire team at Fauquier Free Clinic was able to swiftly and successfully pivot their operations and adapt their workflows to accommodate this new model of care. Now, patients can continue to get the behavioral health they need from Dr. Azpiri, a remote clinician with whom they are already familiar, without having to come into the office.

Patients who do not have access to a computer or fast or reliable internet service at home, are invited to come to the clinic for their scheduled session. Alternatively, if patients have a mobile device, but poor or no internet access, they can also visit mobile hotspots that have been set up around the community, such as the local high school or aquatic center parking lots. This allows them to receive the help they need from the safety and privacy of their vehicles. Given the limited availability of broadband service in this rural area, these mobile hotspots were established in response to the increased need to connect online rather than in-person for school, work and/or healthcare during the pandemic.

Raybuck admits that she was initially unsure how to reconcile the new direct-to-consumer model with the clinic's collaborative approach to care. However, she and Dr. Azpiri developed a plan where instead of entering the room physically at the end of a session as she would have done previously when visits took place at the clinic, she now enters the room virtually by joining the online session at the end to discuss next steps and coordinate follow up care with the patient. And, although fortunately she has not had to do so, Raybuck notes if a behavioral health patient posed an imminent safety risk to himself or others, Dr. Azpiri could alert her and she could step into the room virtually to help intervene and connect the patient with local crisis resources.

Dr. Azpiri concurs that the shift to in-home virtual care has given her a unique and valuable perspective into patients' lives and living spaces. "I am so grateful that patients have been so receptive to this new approach. They have been so welcoming and inviting and flexible, which is a big reason we've been able to pivot so quickly and successfully to in-home virtual care. Delivering care directly to patients in their homes gives me a glimpse inside their private worlds, without being overly intrusive. I can assess environmental cues such as the orderliness and cleanliness of their surroundings, appearance, food needs, etc. This allows me to really see how they are doing physically, emotionally and mentally and determine if additional support is needed."

Dr. Azpiri shares a touching story from a recent session with a patient who was excited to finally be able to introduce her – albeit virtually – to his dog. "Previously we had discussed the emotional benefits of having a pet and, at my suggestion, he decided to adopt a dog. He has really benefited from the companionship and I am so glad I finally got to meet his dog and see firsthand the loving relationship they have developed!"

Although it's too soon to quantitatively measure the effectiveness of the switch from clinic-based to in-home telebehavioral health care, Raybuck and Dr. Azpiri agree the transition has been successful as evidenced by fewer missed appointments and high patient satisfaction and engagement. According to Raybuck, patients appreciate the safety, convenience and cost savings associated with being able to access care online from home. During this time, patients can continue to get the care they need without having to worry about exposure to COVID-19 or having to find reliable transportation or incur travel expenses, such as gas money, to get to the clinic for their scheduled sessions. Raybuck adds, "there are fewer missed appointments now because we are able to reach out to patients who have not logged into their session at the appointed time and remind them of their visit. They can then join their online session, even if a few minutes late, to connect with Dr. Azpiri. Previously, a forgotten appointment would have to be re-scheduled for a later date due to the travel time needed to get to the clinic."

While their primary focus is on patient care, Raybuck notes that they would be remiss if they did not consider the mental and physical wellness and resiliency of their staff during these challenging times as well. In addition to taking measures to reduce staff members' exposure risk and to keep them safe, the Fauquier Free Clinic is offering all staff and volunteers access to their telebehavioral health services in what Raybuck describes as a "makeshift Employee Assistance Program (EAP)." "We're more than coworkers here at Fauquier Free Clinic; we're family. We support each other. We've found that we're texting and connecting with each other a lot more outside of work hours. We're checking in on each other to make sure our buckets are full. You can't fill from an empty bucket," says Raybuck quoting the metaphor from the popular book by author Tom Rath.

Raybuck concludes by sharing two poignant examples of patients who benefited from telepsychiatry during the pandemic. One is a gentleman with a variety of cardiac and pulmonary health conditions who has long suffered from extreme anxiety about doctors, having lab work done, and going to the hospital. With Dr. Azpiri's help, he had made significant progress in controlling this anxiety. However, his anxiety resurfaced during the COVID-19 crisis, and was exacerbated by his job as a deliveryman for a popular local restaurant. Dr. Azpiri recognized the predicament he was in – his job put him at increased risk of exposure but he needed to work to support his family – so she spearheaded a joint effort with his medical and mental health care team to issue an out of work notice to temporarily excuse him from work to protect his health, while still allowing him to keep his job long-term. During this time, he also experienced some significant medical issues and, with the support of Dr. Azpiri, was able to manage his anxiety and go to the emergency room on his own to get the medical care he needed.

The second story is of a mother who is an established patient of Dr. Azpiri's who has a young child with health issues and a history of respiratory illness and had to be ventilated in the past. The COVID-19 crisis, particularly the pulmonary effects on vulnerable patients, has triggered the mother's PTSD trauma. Through Fauquier Free Clinic's now in-home telepsychiatry program, Dr. Azpiri has been able to continue to meet with her to help her cope with the anxiety and emotions that have reemerged as a result of the pandemic.

"Unfortunately, some community clinics have had to close their doors, or temporarily suspend services in order to develop an alternative service plan during the pandemic. It pains me to think of all of the interventions, like the ones I described above, that would have been missed had we not been able to convert to in-home telehealth services. Because of telehealth, we have been able to continue to serve some of the patients in greatest need during these critical times. I cannot emphasize enough how important telehealth is in general, but especially in rural communities like ours. If there is any silver lining to this, it's that telehealth is finally getting the recognition it deserves; everyone is realizing what we've known to be true for some time – telehealth is instrumental in expanding access to care for underserved communities and populations," Raybuck emphasized.