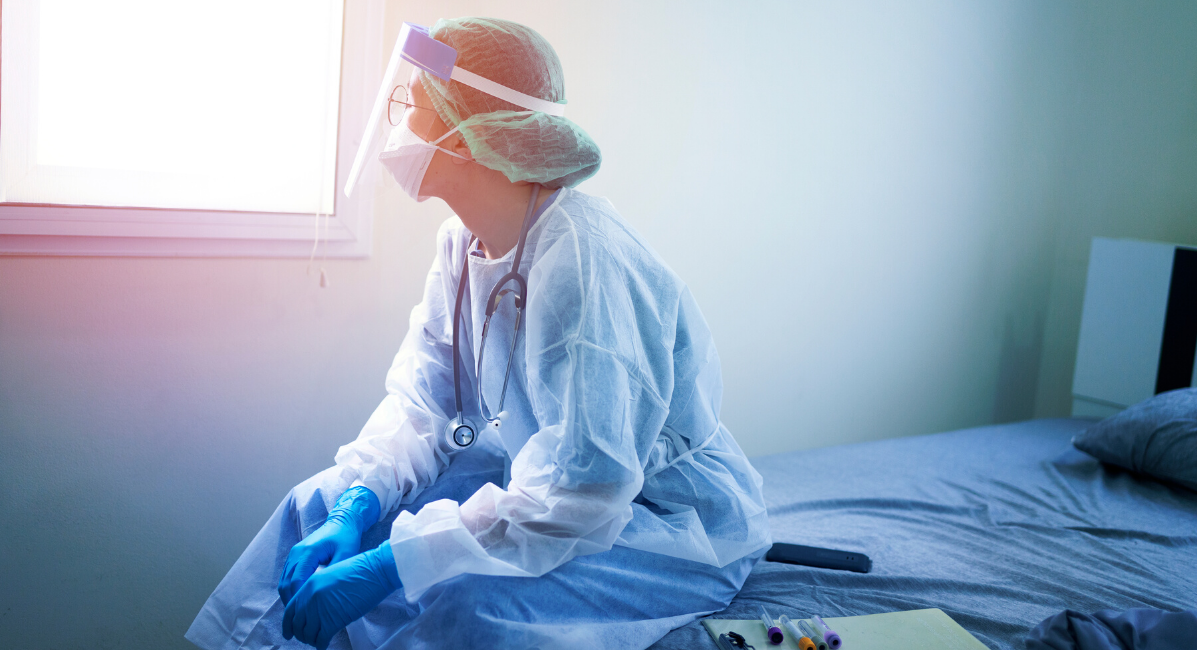 The COVID-19 pandemic is creating an unprecedented set of global circumstances that are profoundly changing the lives of people everywhere. Among many challenges that we now face, it's evident that COVID-19 is creating – and in some cases, exacerbating – mental health issues among many groups.
Research shows that 47% of individuals who were ordered to shelter in place have reported negative mental health effects. This is likely due to the fact that what we're facing currently is global, systemic trauma. As clinical psychologist Sharon Greenfield recently told Reuters, "We're all a little disoriented. Our brains aren't quite sure whether we're being exposed to a traumatic trigger or not."
While many people around the globe are feeling some of the negative effects of grief and trauma, those who work in healthcare are especially at risk. Healthcare workers – like nurses, doctors and EMTs – are on the front line of the coronavirus fight. As a result, they're witnessing trauma occur daily as they perform their jobs.
Healthcare Workers' Mental Health During COVID-19
If you're a healthcare worker, research shows you're more likely to show symptoms of mental health disorders because of the very real stress of managing the pandemic.
Dr. Lorna M Breen, an ER physician in New York, recently died of suicide after the trauma of witnessing COVID-19 firsthand. Research from China shows a considerable amount of Chinese healthcare workers are experiencing symptoms of depression, anxiety, insomnia and distress. These were especially prevalent in women, nurses, those who reside in Wuhan where the outbreak originated, and frontline healthcare workers.
The fallout of this trauma also takes a toll on the spouses and families of healthcare workers. Roughly half (51%) of people who live with a healthcare worker said worry and stress about the coronavirus has had a negative impact on their health. Additionally, many healthcare workers report being afraid to go home, because they have sick or immunocompromised family or housemates and they fear accidentally infecting these individuals.
Weathering the Storm, Together
While the pandemic continues to unfold, it's imperative to prepare to address the long-term impact of COVID-19 to help healthcare workers transition, cope and heal from the trauma they're enduring. One key resource will be perceived social support; feeling interconnected tends to help protect against post-traumatic stress disorder (PTSD). Self-care is also highly recommended.
While acts of self-care are important, however, many healthcare professionals will need additional support if they're experiencing mental health issues such as anxiety or PTSD. Hospitals and healthcare systems can help by offering emergency transportation and housing options, which can mitigate the stress healthcare workers feel about infecting those around them. Perhaps most importantly, these organizations can help provide counseling services and support groups to these workers. Access to mental health resources and professionals is crucial to helping healthcare workers cope and heal from the events surrounding COVID-19.

One tool that hospitals and healthcare systems may consider implementing to support healthcare workers is telepsychiatry. Becker's Hospital Review reported that in 2019 alone, over 100 hospitals had implemented virtual care technology to enable telehealth services for a variety of specialties. Now that telehealth laws are changing quickly in many states to accommodate stay-at-home orders and coronavirus measures, telepsychiatry is emerging as a flexible, no-contact option to connect healthcare workers and others with the services they need.
Countless healthcare workers are fighting to protect our well-being during the pandemic, and these professionals will need their own well-being supported as the immediate crisis fades. Telepsychiatry can help break down barriers to deliver care when and where it's needed most, giving these frontline heroes access to vital mental health services in the days and months ahead.