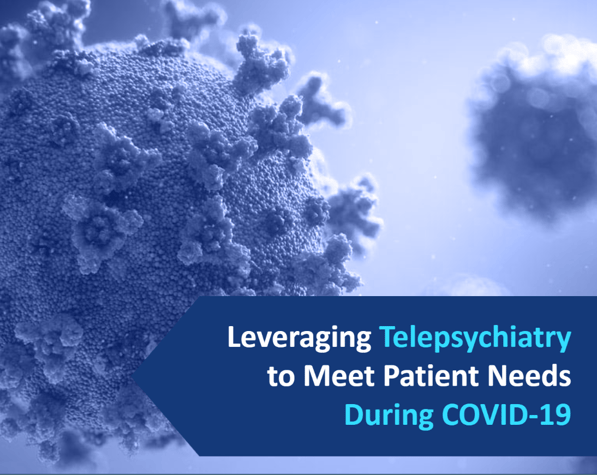 The spread of the COVID-19, commonly known as coronavirus, is upending daily life around the globe. On March 11, the World Health Organization (WHO) declared coronavirus to be a pandemic. To date, there have been over 220,000 cases worldwide, with more than 9,000 deaths reported. There are now widespread mandatory closings and travel restrictions, and many major events have been cancelled or postponed.
In response, healthcare organizations are seeking ways to provide safe, uninterrupted care to patients while meeting new behavioral needs brought on by psychological trauma. The stresses of quarantine and anxiety about the illness can lead to serious mental health concerns, creating ripple effects that will be felt for months to come.
By providing care virtually through telepsychiatry, organizations can respond rapidly to patients' mental health needs and free up in-house clinicians and resources to address escalating medical needs in the wake of the outbreak. Recent legislative updates are paving the way for increased use of telepsychiatry to meet these needs as the coronavirus spreads. Here's how your organization can effectively prepare.
Legislative Updates to Expand Telehealth Access
Regulators and payers are making moves to expand the use of telepsychiatry during the coronavirus pandemic. Last week, Congress passed an $8.3 billion COVID-19 funding package (H.B. 6074) that included a provision to expand telehealth access for Medicare beneficiaries. This gives organizations more tools to meet community mental health needs while combating the spread of the virus.
Highlights include:
The HHS Secretary can now waive originating site restrictions, allowing Medicare providers to deliver services via telehealth, even if the patient is not in a rural area.
Qualified Medicare providers can deliver services to patients with whom they have a pre-existing relationship.
Patients can receive services in their home instead of traveling to a healthcare facility, lowering the potential risk of the transmission of coronavirus. Patients can now also receive services via phone, so long as the phone has audio and video capabilities that are used for two-way, real-time interactive communications.
Additionally, Medicare reimburses for other services provided to patients at home, including video check-in, remote evaluation of recorded video and images, and digital evaluation through a patient portal.
At the state level, a handful of states already have laws in the books about the provision of telehealth during public health crises, while others are mulling legislation in response to the crisis. For example, Vermont passed a telehealth bill both to assist rural patients and to curb the spread of the coronavirus.
Many private payers are also loosening restrictions to make virtual care an option. A statement by the AHIP encourages state and federal policymakers to expand access to telehealth, in-home care, and other technology-enabled options to stem the infection. In Illinois, Aetna is offering a zero-dollar copay for telemedicine visits for 90 days.
Using Telepsychiatry to Meet Today and Tomorrow's Needs
While organizations often adopt telepsychiatry to overcome barriers such as remote geographies, increased demand for clinicians, and the scarcity of mental health specialists, the remarkable spread of coronavirus may force many providers to adopt telehealth solutions to overcome unexpected barriers like quarantines. It will be important for healthcare organizations to act quickly to meet immediate needs and provide the appropriate support as the mental health consequences of the pandemic unfold.
Post-traumatic stress and depression are often found in individuals who have recently been in isolation due to a quarantine, and for those who have existing mental illnesses, this isolation can make those conditions even worse. While containing and treating the virus must take priority, mental-health care must also be programmed into the response.
Telepsychiatry allows patients and clinicians to connect from anywhere, which helps organizations to:
Provide continuous care for patients, even if they're homebound because of self-ordered or mandatory quarantines.
Conserve medical resources for patients most in need, so the healthcare system doesn't become overwhelmed. Organizations are racing to flatten the curve of the pandemic while they can, and on-demand services can help keep psychiatric patients out of hospital beds needed for the treatment of hospitalized coronavirus patients.
Keep clinicians safe by distancing providers from the virus, while still providing necessary mental health support.
How Comprehensive Care Can Flourish with Telepsychiatry
When it comes to different types of mental health care, telepsychiatry can be used in several important ways to ensure the safety of both patients and clinicians during this time:
Scheduled Services - With scheduled services, a consistent clinician or small group of clinicians serves a regular caseload during scheduled hours, helping healthcare organizations expand access, augment in-house resources and support continuity of care. The remote clinician is able to do anything an onsite clinician would do including assessment, medication management, treatment team meetings and supervision. Adult psychiatrists, child and adolescent psychiatrists, psychiatric nurse practitioners and all other levels of behavioral health professionals are all available under the scheduled service model.
In-Home Care - The home-based services model moves behavioral health care outside of the clinics and primary care centers and into patients' homes. This would allow patients to continue to get the behavioral health care they need without having to come into the office. With in-home virtual care, healthcare organizations can continue to offer their patients access to behavioral health care while helping to contain the spread of COVID-19.
On-Demand Services - An on-demand approach to telepsychiatry offers access to experienced clinicians when and where organizations need them, providing critical behavioral health coverage and enhancing the bandwidth and expertise of in-house staff. With coronavirus threatening to overwhelm capacity at hospitals across the U.S., telepsychiatry can help hospitals evaluate psychiatric patients to quickly determine the right level of care for mental health patients and conserve hospital beds for COVID-19 patients.
Implementing telepsychiatry as the coronavirus worsens also benefits clinicians, who can work safely while still attending to patient needs. With many people feeling the mental health effects of the outbreak, clinicians can provide valuable virtual care for people in high-stress situations like quarantines.
Providing Care Responsibility in Times of Crisis
The full impact of the coronavirus is still unfolding, but it's clear that healthcare organizations will need a solid plan to address immediate mental health needs and the longer-term effects of the outbreak. The key will be to leverage recent regulatory changes to integrate innovative delivery models like telepsychiatry. A virtual approach can help protect the health and safety of both patients and clinicians, while delivering care where and when it's needed the most.
To learn more about telepsychiatry's role in delivering uninterrupted behavioral health services, contact us today.